Multi-channel IPTV encoding & streaming software for PC
IP Video Transcoding Live! (IPVTL) is designed for internet IPTV streaming, digital satellite TV broadcasting, video surveillance and event webcasting.
IPVTL provides high density encoding capability with lowest latency. Running on high performanced generic Intel / AMD64 architecture and NVIDIA Quadro / Tesla graphics processors, IPVTL streams up to 64 channels full hd1080p @ 30fps H.264 video on one single dedicated server.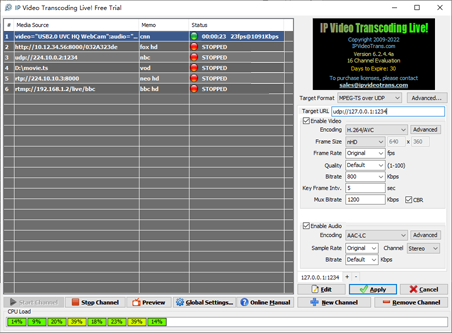 IPVTL implements full support of media encoding formats, from traditional to modern, such as G.7xx, MP2/3, AMR, AAC, OPUS, AC3, H.263(+), H.264/AVC, H.265/HEVC, AV1, MPEG-1, MPEG-2 and MPEG-4, also HTML5 video formats VP8/VP9 included.
IPVTL handles all kinds of media streaming formats, from video clips and DVB capture/tuner cards, to internet streaming protocols HTTP, FTP, MMS, RTSP, RTMP, RTP, NDI, SRT and MPEG-TS (DVB-S). It can do live streaming to most popular internet live tv/video providers listed below (youtube, twitch, facebook, ...), as well as to local network CCTV / DVB / IRD devices (Dreambox® and Blackmagic Decklink cards).
| | | | | |
| --- | --- | --- | --- | --- |
| | | | | |
| Youtube | Twitch.tv | Facebook media | Windows Media Server | Adobe Media Server |
| | | | | |
| Wowza Streaming Engine | Apple Quick Time | RealNetworks Server | DVB-S | |
Key Features
Up to 64 channels streaming on single PC
24/7 unattended streaming with auto fail recovery
Various devices & formats supported (file, MPEG-TS, HLS, RTMP, SRT, NDI, decklink, Directshow, and many more)
Intel / NVIDIA / AMD GPU assisted H.264 / HEVC / AV1 decoding and encoding
IPVTL provides on-demand streaming as well. It can stream from pre-recorded video clips of any formats on your local disk, with transcoding on the fly. Scheduled folder play is also possible.
On output side, IPVTL supports the most popular streaming protocols today - HTML5 mp4 web video, Apple HLS and Flash RTMP pushing to CDNs of Nginx-rtmp, Adobe Media Server, Wowza Streaming Engine or Red5 Media Server. MPEG-TS output in constant bitrate (CBR) is available for best compatibility with IPTV OTT, DVB IRD and other playback hardware.
IPVTL brings full control of video and audio encoding profiles customized as per your system requirements. Video size, quality, frame rate and bit rate, you can reshape your stream fast and simple. IPVTL also provides professional video post-processes such as logo/delogo, watermarking and subtitle overlay.
IPTV Streaming Infrastructure